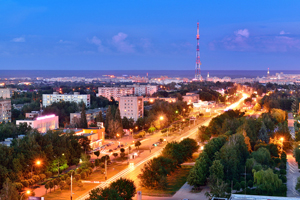 Tambov is a city and the administrative center of Tambov region of Russia, located at the confluence of the Tsna and Studenets Rivers, about 480 kilometers south-southeast of Moscow.
Tambov population is about 288 414 (2016).
Tambov was founded on the banks of the Tsna River in 1636. It was built as a fortress to protect the southern borders of the Moscow kingdom from the raids of Crimean Tatars and Nogai.
Tambov has lively streets and quarters all in green, high new buildings and cozy old houses, old-fashioned small streets and alleys with fountains.
Among the main places of interest of Tambov are Victory Park, the memorial home of Georgy Chicherin, the first Minister for Foreign Affairs of the USSR, the memorial estate of the composer Sergey Rachmaninov, War Memorial and Eternal Flame, Kazansky Monastery.
Please note that the organizing committee will not be able to arrange accommodation. Participants are requested to contact hotels directly for reservations.
Hotels recommended for the participants:
Hotel
Website
Approximate prices
Address
"Gallery"
link
Single and double from 2600 rubles
Tambov, Maxim Gorky Street 17/129
"Derzhavinskaya"
link
Single from 2000 rubles
Double from 2700 rubles
Triple from 3300 rubles
Tambov, Leo Tolstoy square 4
"Teatralnaya"
link
Single from 3100 rubles
Double from 3500 rubles
Tambov, Oktyabrskaya street 4a
"Grand"
link
Single from 2600 rubles
Double from 2700 rubles
Triple from 3400 rubles
Tambov, Karl Marx street 176a